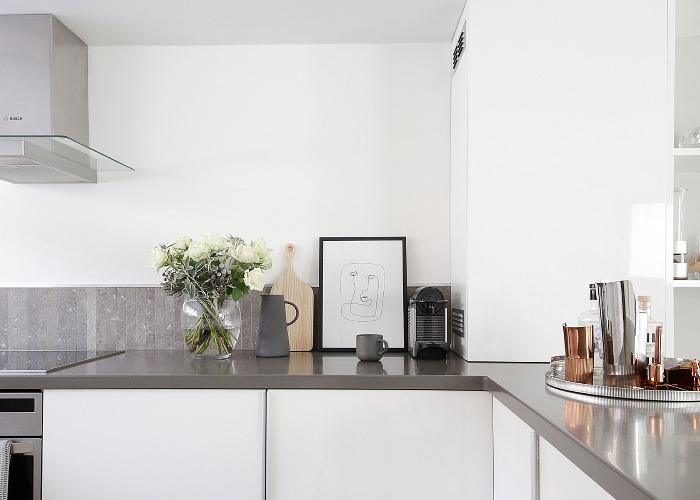 It's the work of a weekend and it could save you thousands, so why wouldn't you conceal this unsightly feature if you're trying to sell your house?
It may be the beating heart of our homes, but many of us don't think twice about our boiler when we come to decorate.
READ MORE: 25 simple things you can do to hugely increase your home's value
However, research has revealed that overlooking your boiler could seriously take a toll on your property's value, so if you're planning on upping sticks anytime soon, you might want to turn your attention to that unsightly metal box on the wall.
Get three FREE quotes for a new boiler from local engineers now with BoilerGuide
Data from energy supplier npower has revealed that an unconcealed boiler can cause potential buyers to try and cut around £5,000 off the asking price of a house.
More worryingly, two-thirds of homebuyers admit that having a boiler openly on display would make them reconsider a property entirely, rating it a bigger turn-off than dated kitchen appliances and clunky radiators.
Despite the potential impact on their home's price tag, 70% of the survey's 2,000 participants said they would only be willing to spend £500 to make the area around their boiler more appealing.
Usually installed with air vents and pipework in mind rather than aesthetics, most boilers don't have the stylish appeal of a flashy new fridge or sleek white goods.
But there are ways to disguise them, even if you're working to a tight budget, and what's more, this DIY job can be taken care of in a weekend.
Before you get your project underway though, don't forget to seek expert advice about how much clearance for ventilation you'll need around any casing, as well as the amount of room required for servicing and maintenance. You can find qualified gas engineers who can help ensure your design meets regulations and fire safety standards on the Gas Safe Register.
Or, if it's time to update your boiler, Boiler Guide can help you compare free quotes from local heating engineers to find the best deal.
Get inspired by these nine creative ideas that'll help you conceal your boiler and protect your property's value…
1. Create a DIY boiler cupboard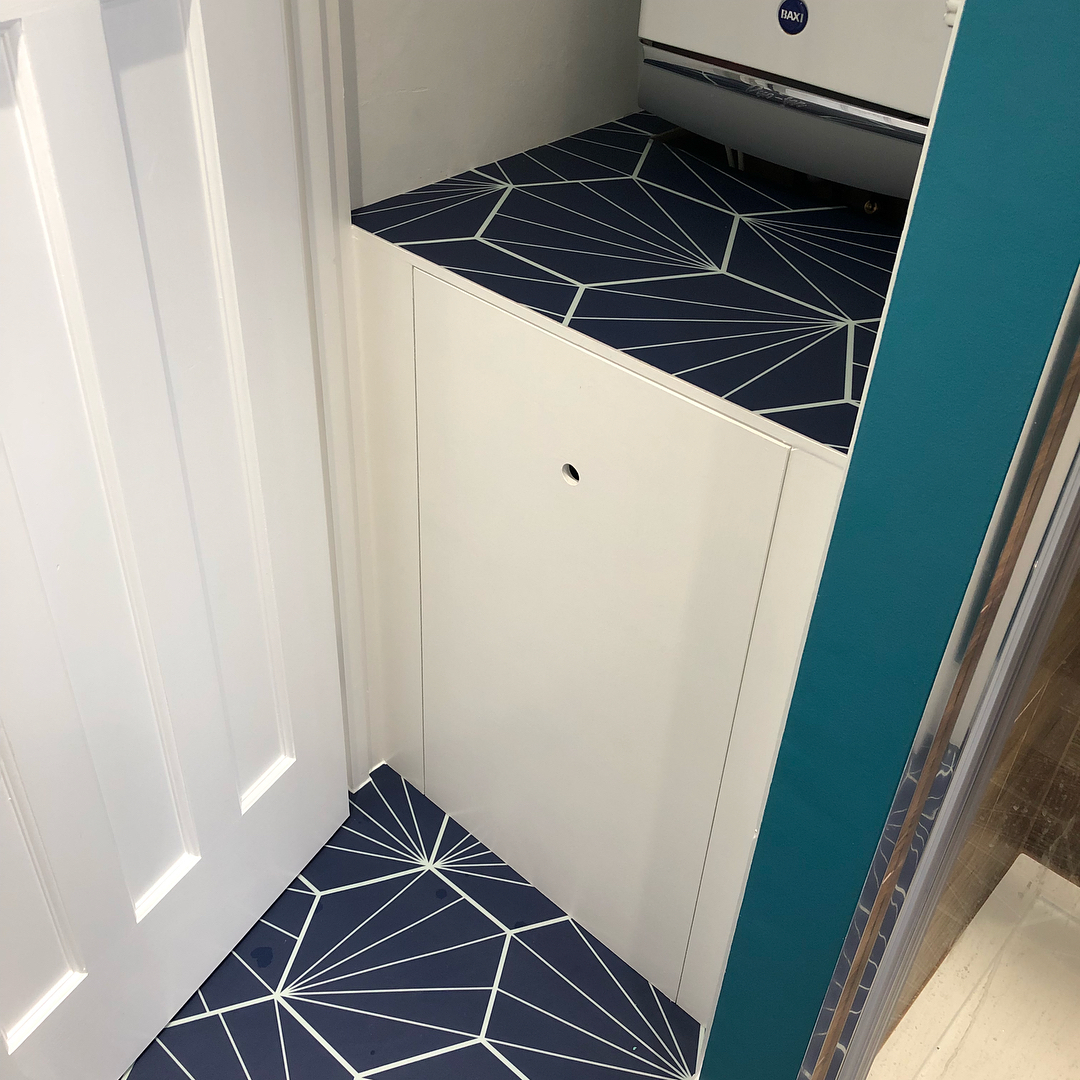 Image: Instagram / @_diyaddict_
A perfect job to get out of the way at the weekend and a simple one if you've got some carpentry skills and power tools, this fab solution uses an offcut of matching vinyl kitchen flooring to top a very handy storage space.
This job is more about utilising every precious inch in the boiler cupboard, creating a space for keeping essential but unstylish household items out of sight.
2. Conceal with a kitchen cabinet
For a seamless look that totally hides the boiler, consider a bespoke cabinet in keeping with the rest of your kitchen.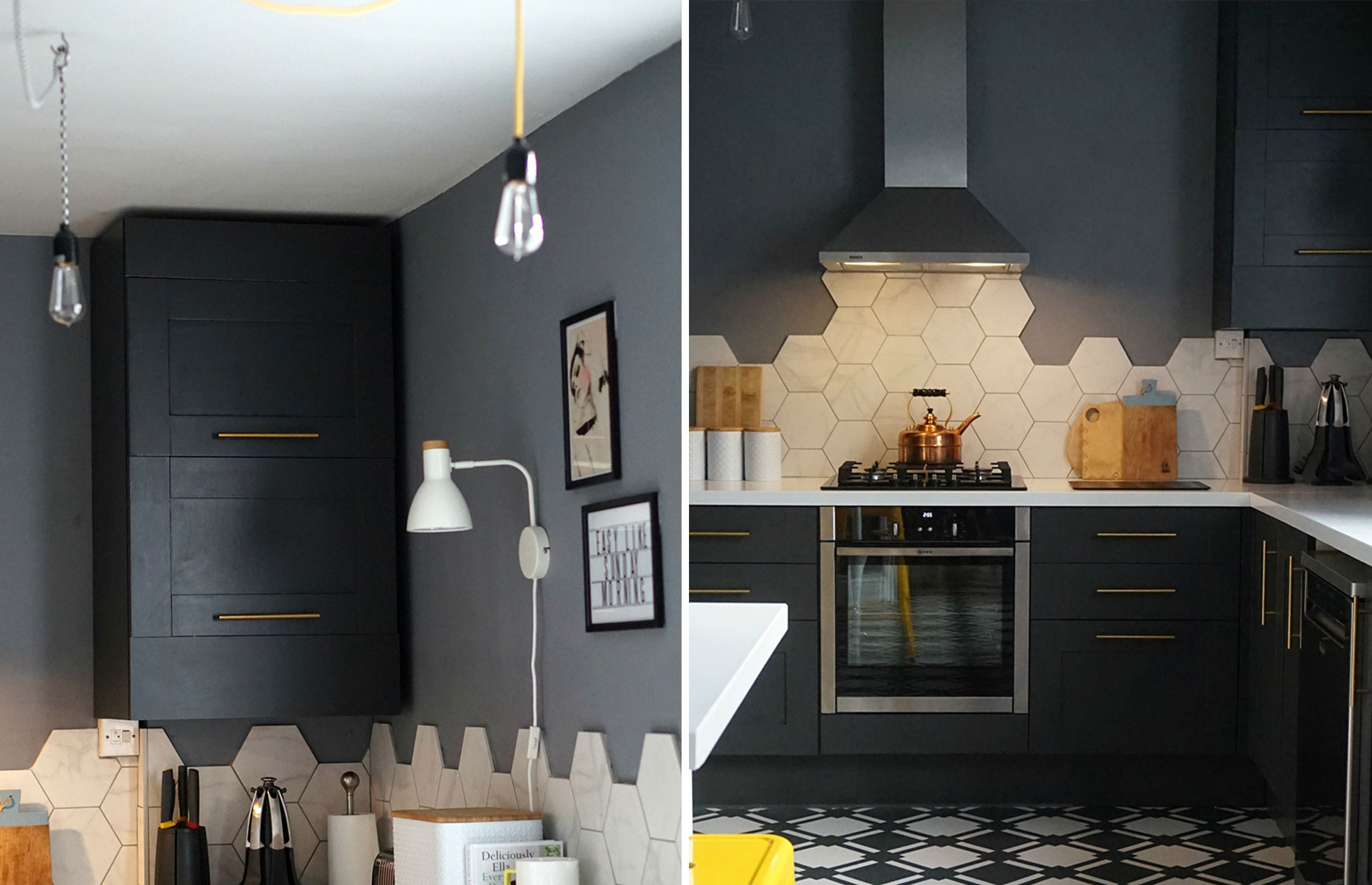 Image: Jen Stanford / Love Chic Living
Most kitchen design companies offer casing that fits modern-sized boilers, but if you're working with an older model be sure to check the dimensions.
The two handles and bevelled edges of this sleek dark door front disguise the boiler, looking like two smaller units instead, while the whole panel is on magnets to allow easy access to the boiler's settings. Very clever!
3. Cover with a chalkboard
"For the DIY confident among us, you can build your own chalkboard boiler cover with affordable materials like MDF, hinges and a lick of chalkboard paint," says interior design blogger Fifi McGee.
The exterior then becomes a convenient way to share shopping and to-do lists with the whole family.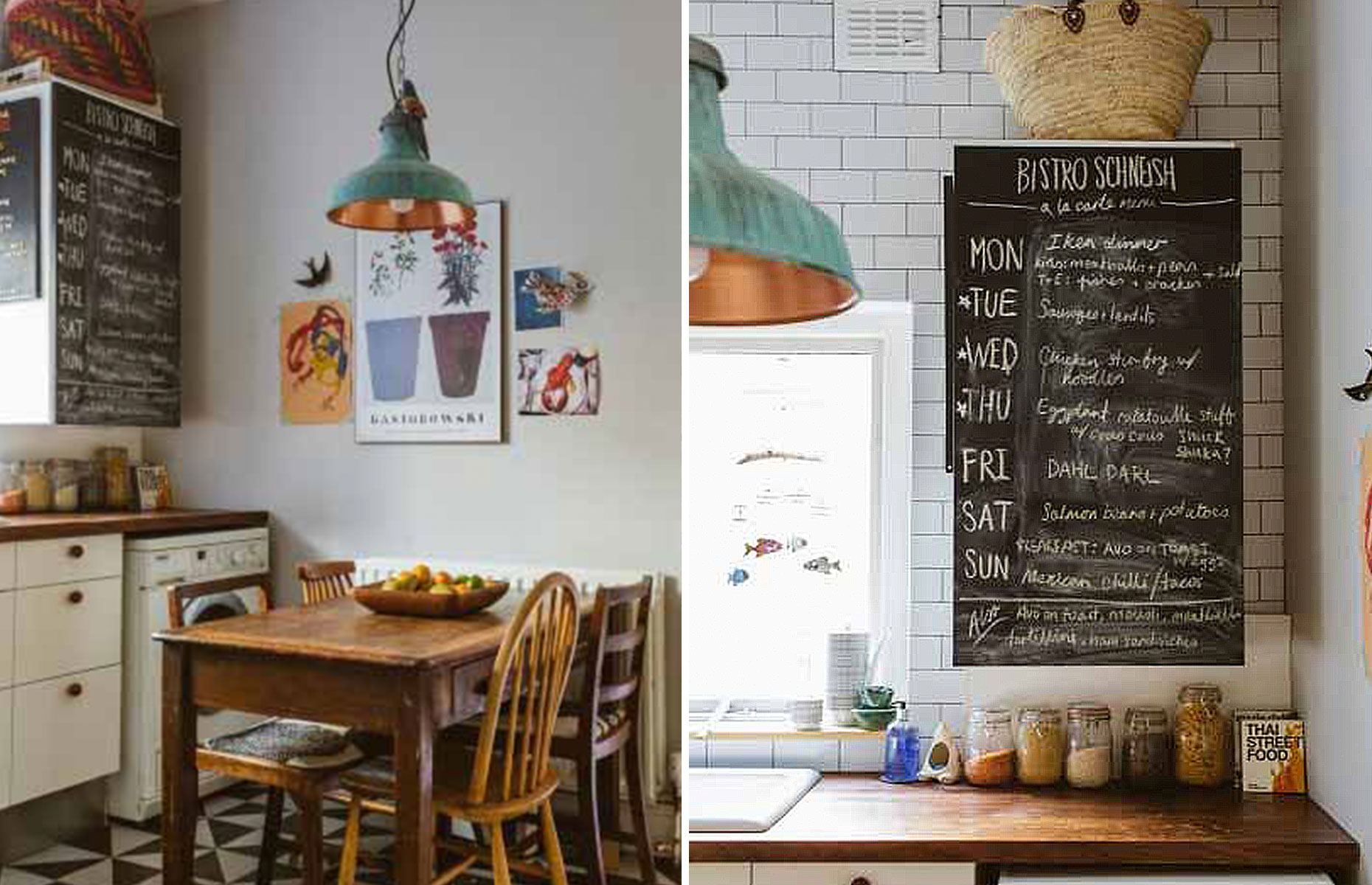 Image: Emma Scott-Child / This Is Lady Land
 4. Build bookshelves
If your boiler is in an awkward place such as a spare room or hallway, consider building a cupboard into a neat storage solution.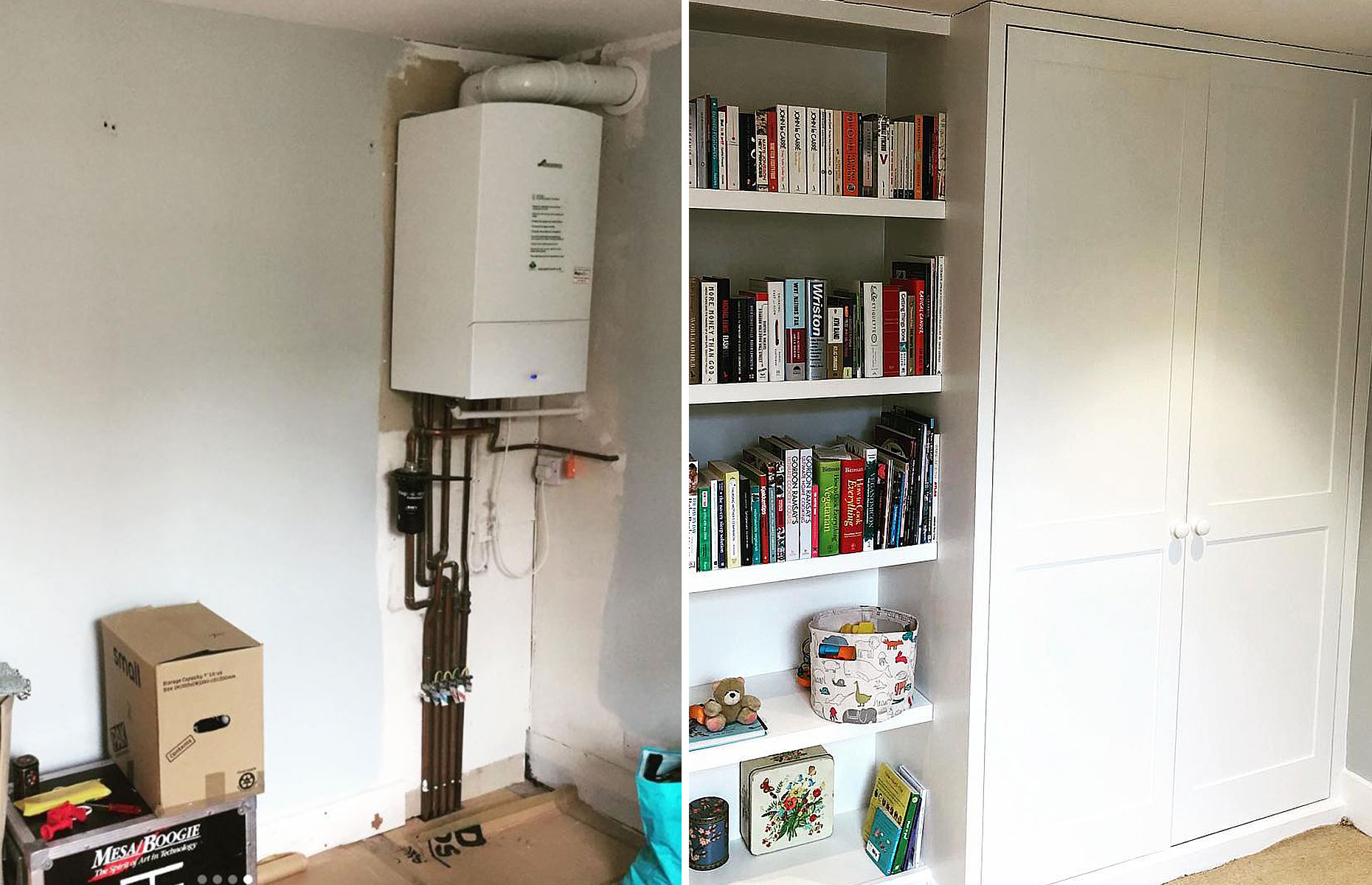 Image: Instagram / @bespoke_carpentry_ltd
You can configure the cabinetry however you want; with open shelving for books, magazines or records, or make the lower shelves a practical space for storing toys. Don't forget to include a carbon monoxide alarm and plenty of ventilation somewhere in the unit too!
If you get the professionals in they can also work around existing light sockets and come up with clever space-saving design, like this bookshelf that's shallower than the boiler cupboard.
5. Hide in plain sight
If there's no space around your boiler to box it in, then why not add some decorative artwork to jazz things up?
This kitchen boiler has been disguised with an amazing mural by Cole & Son that coordinates with the unit's existing flash of teal, while filling the blank space with something that's decorative but not overwhelming.

Emma Mitchell / Home For Now by Joanna Thornhill (Cico Books, 2014)
6. Build a simple cupboard
"If you're finding it difficult to find a matching kitchen unit to fit around your boiler or if your boiler is located in a bathroom, garage or lean-to and you'd like it to be boxed in, building a simple swing door made with affordable materials like MDF is an ideal solution," says Fifi.
"Paint the door a colour that will conceal it within the room and buy matching handles to give it the illusion of being the same as surrounding cupboards."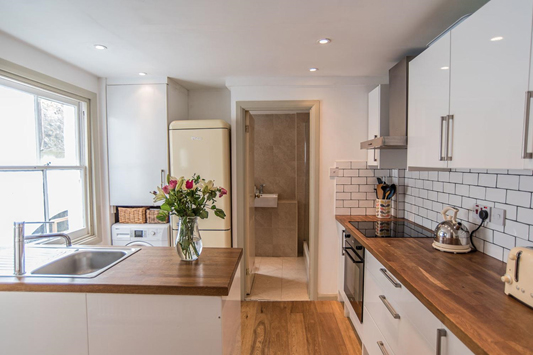 Image: Fifi McGee
7. Spice up your life
Even the snuggest of cupboards will usually have a couple of inches' grace between the door and the boiler cover, enough to fit in a very slim shelf that's perfect for stashing spices.
You'll be surprised by how much wall space you'll save with this nifty storage hack!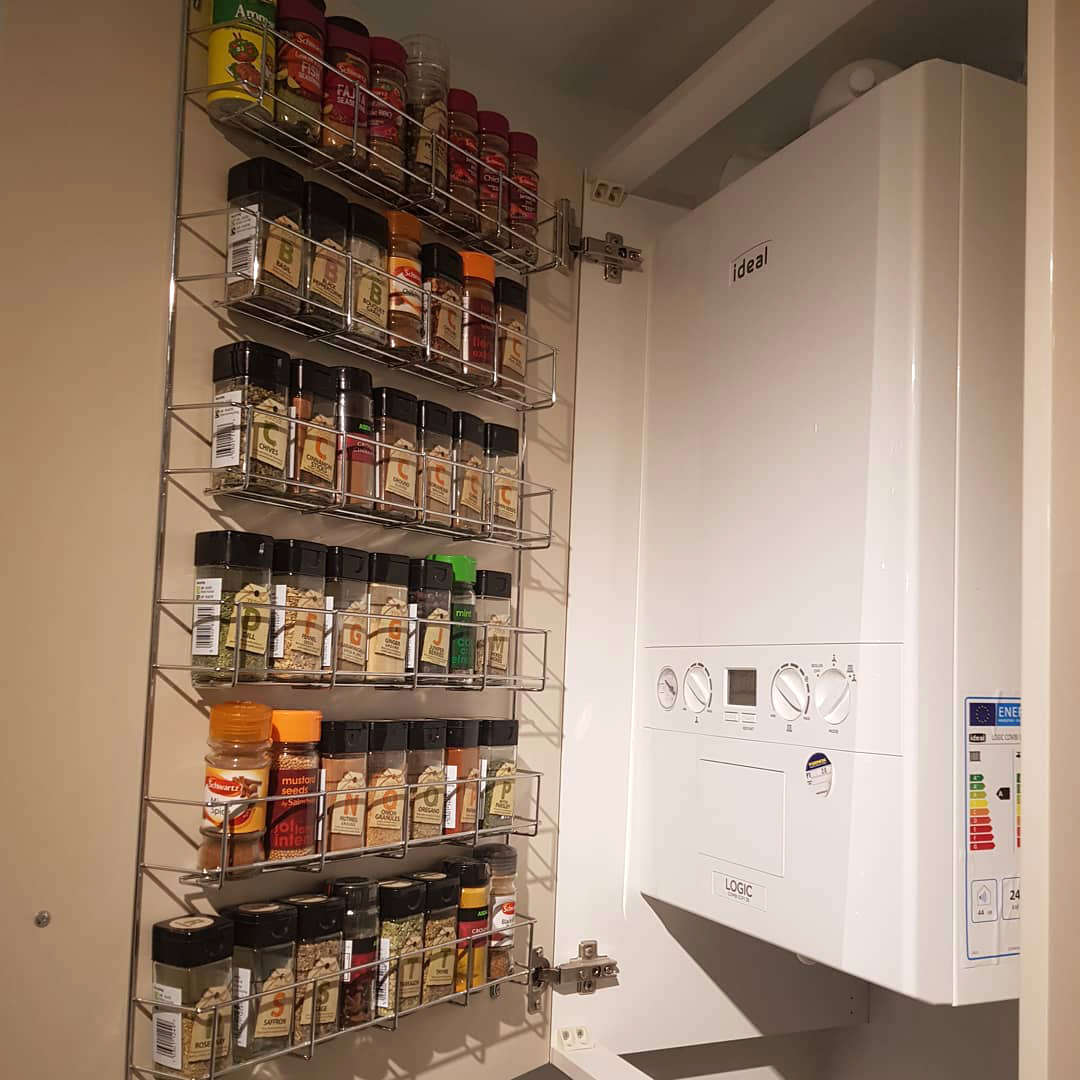 Image: Instagram / @our.chisley.new.build
8. Build a bespoke utility cupboard
Maximise the space around a wall-mounted boiler with a utility unit. It means you can keep other household items stashed tidily away. "Ask your local carpenter for rates and recommendations on the most affordable fireproof material for the job," says Fifi.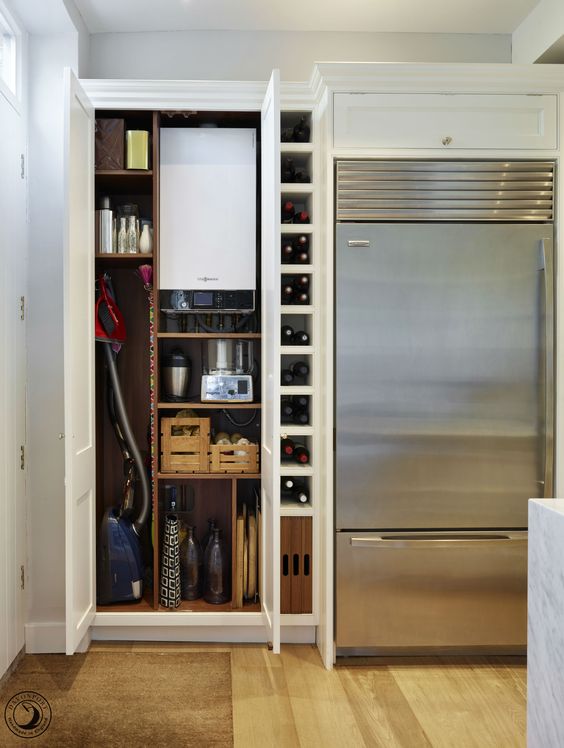 Image: Davonport
9. Sneak in a workstation
Rather than just boxing up your boiler, consider the ways you can make the casing work double-time. This built-in cupboard not only conceals the boiler, but it also provides a small shelf desk, complete with storage below for home office supplies – the perfect remote working solution!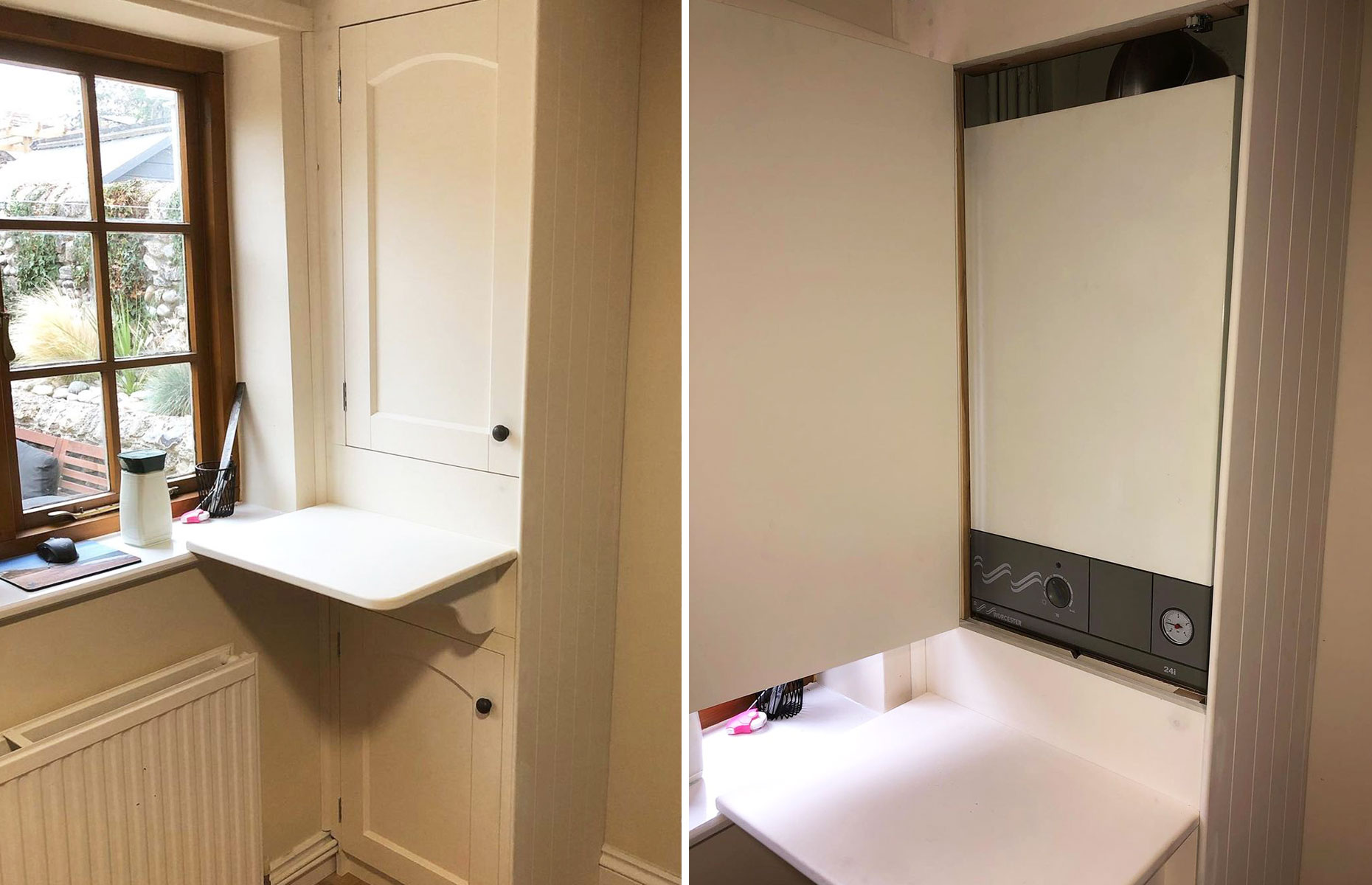 Image: Richards & Collier Joinery
So there you have it, making a small, considered improvement to disguise your boiler could make you extra pounds on a sale price, and make your home all the more attractive too.